Posted by mediasys
On March 26, 2017
0 Comments
AI, Bosch, Computer, Nvidia, Self-Driving Car
Bosch, the world's largest automotive supplier, provided a massive stage today for NVIDIA CEO Jen-Hsun Huang to showcase their new AI platform for self-driving cars.
Speaking in the heart of Berlin to several thousand attendees at Bosch Connected World — an annual conference dedicated to the Internet of Things — Huang detailed how deep learning is fueling an AI revolution in the auto industry.
The small AI car supercomputer was unveiled yesterday in the opening keynote address by Bosch CEO Dr. Volkmar Denner, who focused on how his company, which had €73 billion ($77.6 billion) in revenue last year, is pushing deeper into the areas of sensors, software, and services.
"I'm so proud to announce that the world's leading tier-one automotive supplier — the only tier one that supports every car maker in the world — is building an AI car computer for the mass market," said Huang, speaking in the main theater of the glass-roofed, red-brick exhibition center.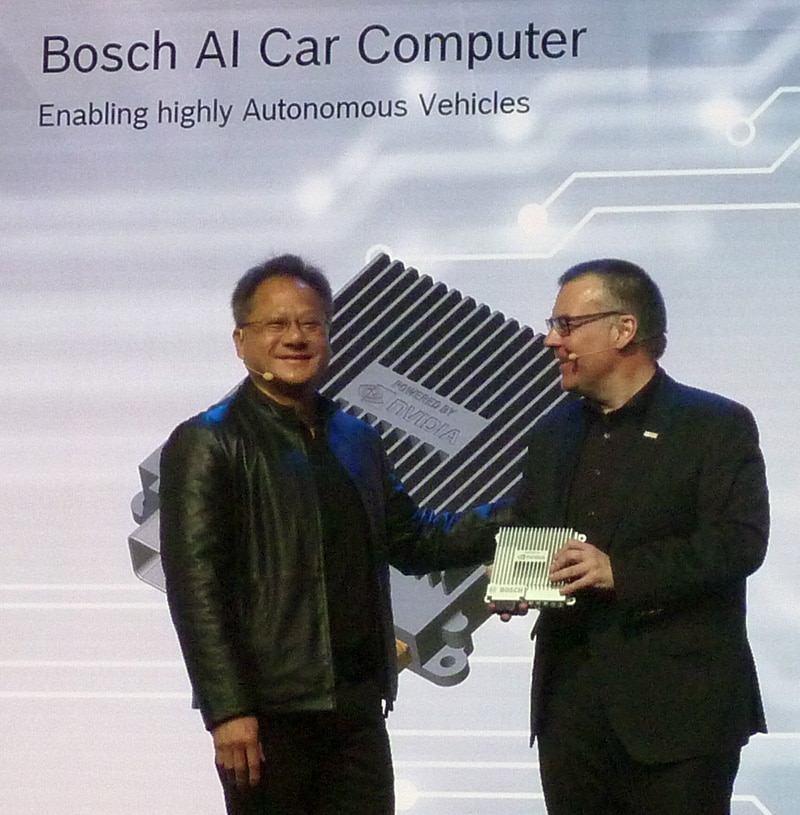 "It blows my mind where this industry is going and where this strategy is going," said Dr. Dirk Hoheisel, who sits on Bosch's management board, responsible for mobility solutions.
First Adoption of NVIDIA Xavier Technology
The collaboration with Bosch represents the first announced DRIVE PX platform incorporating NVIDIA's forthcoming Xavier technology. Xavier can process up to 30 trillion deep learning operations a second while drawing just 30 watts of power.
That power is needed to achieve what the automotive industry refers to as "Level 4 autonomy," where a car can drive on its own, without human intervention. The number of cars with various levels of autonomy will grow to a total of 150 million vehicles by 2025, analysts project.
NVIDIA's Huang said his company will deliver technology enabling Level 3 autonomous capabilities (in which a car can drive on its own but still needs a driver to intervene under various conditions) by the end of this year, and Level 4 capabilities by the end of 2018.
Huang noted that a wide range of leading brands are working on autonomous solutions — from traditional carmakers like Audi, Ford, and BMW, to new competitors like Tesla, and technology innovators like Waymo, Uber, and Baidu.
Accelerating the AI Pipeline
Deep learning plays a vital role through the entire computational pipeline for a self-driving vehicle enabling it to get increasingly smarter based on experience. This involves:
Detection — understanding the world around the vehicle;
Localization — using what's perceived to create a detailed local map;
Occupancy grid — building a real-time 3D environment around the vehicle;
Path planning — determining how to proceed along the mapped route;
Vehicle dynamics — calculating how to drive smoothly
Consider the processing horsepower required to make sense of the ocean of data that streams in from a car's array of sensors, including cameras, radar, lidar, and ultrasonics. This is where deep learning comes in. By first developing and training a deep neural network in the data center, the NVIDIA DRIVE PX system becomes able to understand everything happening around the car in real time.
To find out more about NVIDIA's GPUs, do visit their website.